Grizz. Grizzly Bear. Grizzy. Grizzers. Little Bubby or Bub (Ruger, our Rottie is Big Bubby/Bub)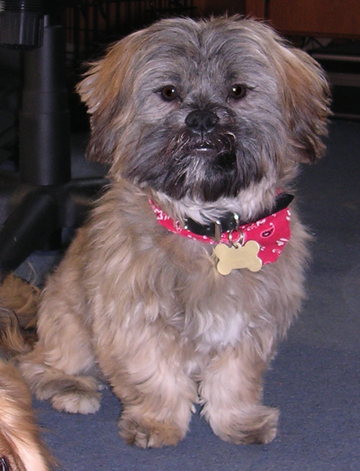 It's completely unnatural how much I love this little dog. We're Rottweiler owners for Pete's sake! He's supposed to be a Shih Tzu. My vet looked at me over his glasses when I said that. My groomer said, "Well, maybe his grandmother was a Shih Tzu."
I both love and hate to tell the story of how we came to have such a little ball of cuteness: Petland. I know. I know. I'm so ashamed! We went in to buy dog food and look at the puppies. Ken saw this little guy and had to have him. "He looked at me!"
To which I reply: "Stay out of the tittie bars, will ya?"
HA!
He is a love. He's a little shit, Ken says. And then I correct him, "Shih Tzu!" Mmmmm Hmmm.